You can now register to the FOSS4G conference.
The details: "There are three things you will need to plan:
Which conference package do I want to book – Full, Day or Student?
Which extra items do I want to book – workshops, icebreaker, closing party?
Where am I going to stay – hotel on site, university accommodation, somewhere else?
Details of all the options are shown here. Note that the accommodation options are available once you've ticked your registration options checkbox(es), so you don't need to book accommodation separately. It's easiest to pay by credit card but if your organisation requires an invoice to pay you can tick that box when you register and we will send you an invoice.
Please note that you must pay the full amount in £ sterling including any bank charges. 
Invoices must be paid within 14 days of receipt to secure your room reservation and delegate place.
Early Bird prices are available until 31st May but we recommend booking as soon as you can as there are only a limited number of hotel rooms on the site."
Slashgeo is a proud media partner of FOSS4G.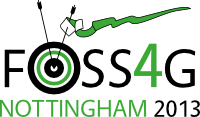 Read More »